News From The Gorge Race 2019: 10 Days Until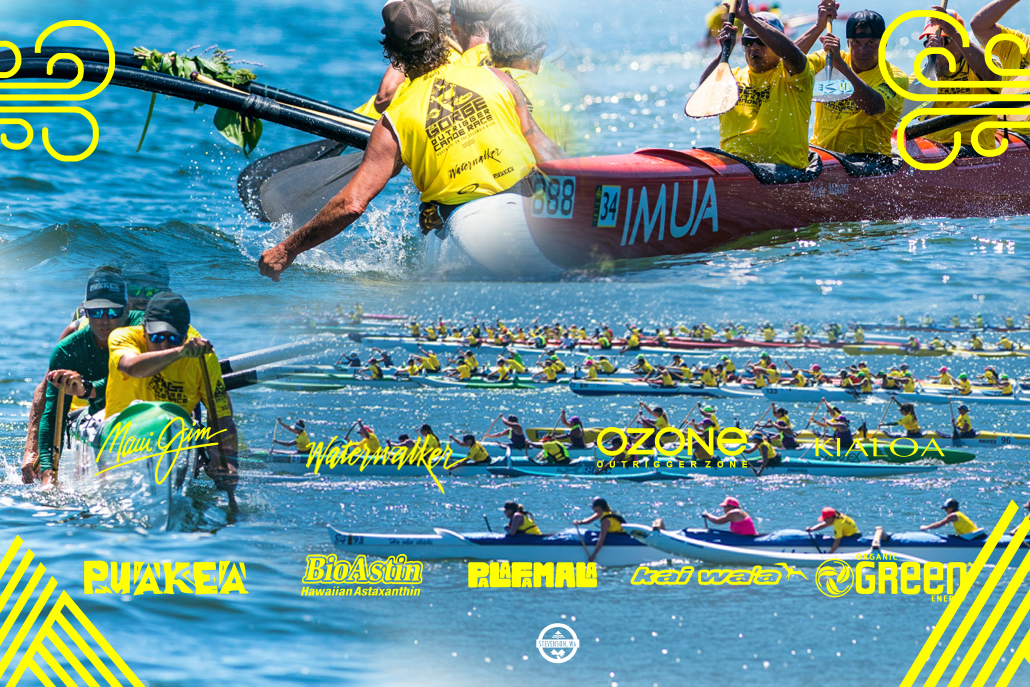 Contents:
Registration Closed For Women/Mixed (reached max)
Drano, Parking, Spectators and Railway ($1000 fine by local Sheriff, please read to avoid problems)
Steering tips from Jimmy Austin, Team Puakea
Camping Logistics Reminders
Start List
1) Registration Limit – Reached for Women/Mix

Safety is rule #1. In order to keep a safe race course, we must curtail the amount of paddlers on the river. Here's why; There are some sections of the river that can get narrow, steep waves and a strong current. In addition there is barge traffic, fishing boats, fishing nets, hidden rocks and logs. It is a good idea to study the course map to prepare for this race. Link here.
Race Director JD Davies will make adjustments and final decisions when it comes to the race course and participation. As of now, the Womens/Mixed race has reached the limit of 60 crews. The mens race has 13 spots left and will be open until they are filled OR deadline of midnight, Thursday, July 11th.
2) Drano, Parking, Crew Swap, Trailers, Railway

At the finish of the Women/Mixed Race, crews will be looking for the truss (Bridge) at Drano Lake, once you pass the bridge, stay to the left to spot the finish Buoy, finish close to the buoy and steers person please confirm your team name to the officials ie: Dana Point Master Mixed and listen for instructions if they need you to clarify class or division (this is due to last minute crew changes that effects the results).
Once clear, please paddle to boat ramp. Have a plan about who is picking up your canoe to return to Stevenson or men's crew that is using your canoe.
Be sure the new number visible on the canoe for the men's race!
Parking at the boat ramp is metered, you could be ticketed for parking without a pass. Please keep the spaces open for trailers that are picking up canoes. Park across the street if needed but DO NOT park in the area adjacent to the boat ramp that is clearly marked "NO PARKING". Instead park west or east of the signs and park.
DO NOT CROSS THE RAILWAY. The local Sheriff has already called to express they will be onsite to ticket anyone crossing the tracks. This is a hefty $1000 fine we don't want any of you to get, so please pass this info on to everyone, including spectators.
You can walk west to the bridge, where you can watch the start of the mens race or the finish of the womens/mixed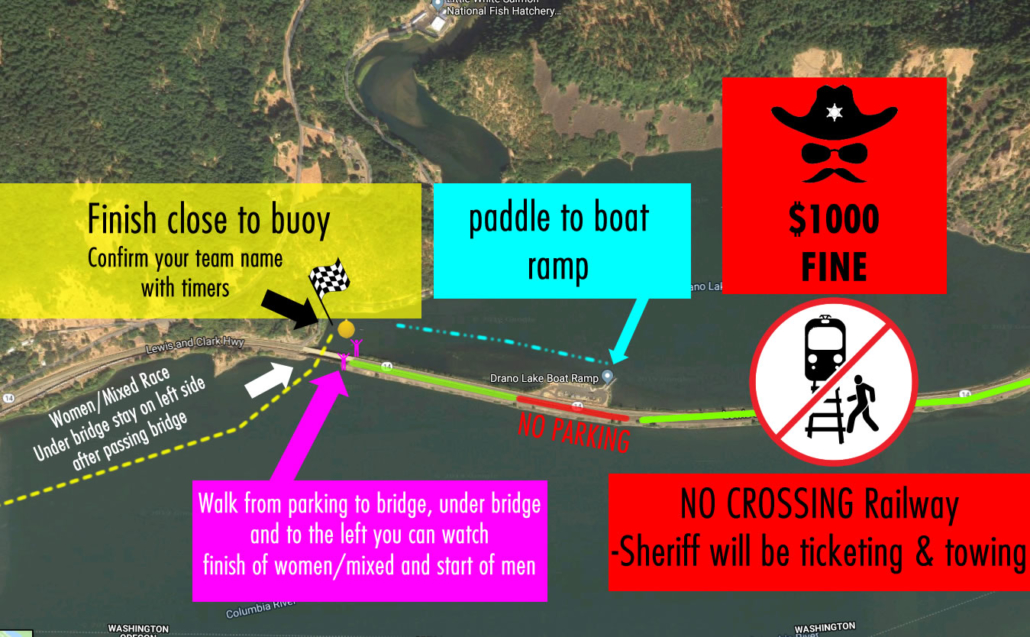 3) Steering Tips For the Gorge Outrigger Canoe Race

Water is shallow in parts as you leave the camp grounds, please ask around for the best route or review course map.
If the wind is up, the waves will be close together and stacking high, please have an experienced steersman and seat five who can help when necessary.
Keep an eye out for barge and stay clear, it is very large and difficult to skipper, you do not want to huli near the barge.
Also keep an eye out for Dolphin (marker structures), rocks, logs and fishing nets.
I reached out to Jimmy Austin, who has steered the Columbia River a number of times, for some tips for you:
Jimmy Austin tips on steering at the Gorge:
"Speed gives you control, keep moving and tell your crews to keep paddling through the rough stuff. If you are a novice, stay away from the deeper and steeper sections and look for the shoulders, as they will have just as much energy but with less chance of swamping. The unlimited canoes will give you more speed and a chance to catch more waves, but keep in mind the ama is rigged closer and is much lighter than your spec OC6. For my junior crews I put a 5lbs weight duct taped to the rear iako/ama, it works great!

Don't over correct, that's where you lose speed and thus lose control. Always be anticipating and choosing your line. Don't wait, Anticipate. Remember a 2 second poke is a lot better way to correct than a 5 second kahi (draw stroke). But if you need to poke on the right, be sure you have a reliable seat five to keep the ama down on the left. Always be communicating with seat 5, so they can also anticipate when to help you and when to go back to paddling etc. For example, if they start to kahi, say "yes" or "that's enough" or "help" if you need them on the left again.

You should also practice recovering your canoe from a huli, the unlimited OC6 is slightly different to recover than a Spec OC6. Use the ama side iako to step up and climb on top the hull, and than pull the iako over the other side as you slide back into the water, be sure the water is clear of any swimmers so the ama does not land on them."
Johnny Puakea will be discussing steering and huli recovery at the safety meeting on Friday. Please be in attendance!
4) Logistics and Reminders
Camping: Please ask around for where to camp, find a space that is not used. See map for where to park trailers, and one-way entrance and exit of the camping area.
Packet Pickup And Check-in: 5-8pm Friday at the Fairgrounds Picnic Shelter, remember your boat number from the start list below, it will help speed up check in.
Mandatory Safety Meeting: After Registration Check-in (8pm) at Fairgrounds Picnic Shelter – Steering tips and advice from Johnny Puakea.
Mandatory Steersmen Meeting: 10am Saturday at the Fairgrounds Picnic Shelter.
Results and Awards: 6pm Saturday at the Fairgrounds Picnic Shelter.
Canoes to borrow/share, paddlers looking for crews, crews looking for paddlers, ride shares, etc, please use the Paddler Connect forum> https://thegorgerace.com/connect/
Bring your signed waivers to the packet pickup! https://thegorgerace.com/2019-waivers/
Life jackets are required for all on the water events! If you are on the water, wear a life jacket.
If you are racing, please wear your Race Jersey during the race!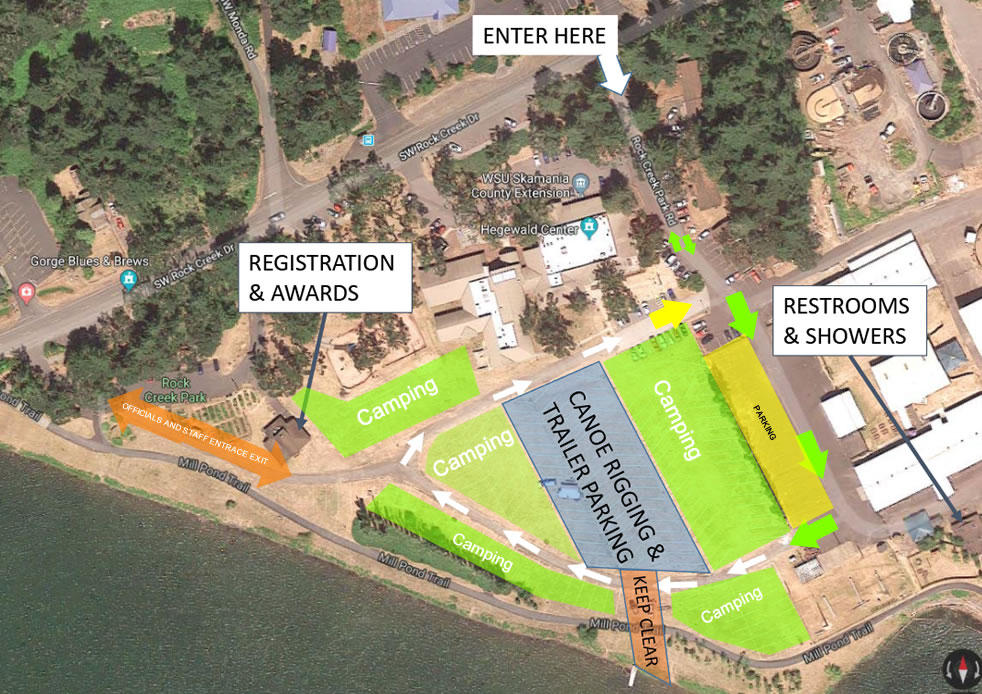 5) Start List
(As of July 2nd, for latest start list see link above)
Thanks for reading! If you have questions, please email [email protected]
~Naim Ferguson
On Behalf of The Gorge Race ~ A Waterwalker Event
Mahalo Sponsors:
Maui Jim ~ Outrigger Zone ~ BioAstin ~ Pacific Northwest Outrigger ~ Puakea Designs ~ KIALOA  ~ Green Energy Drink ~ Kai Wa'a Canoes and Kayaks
https://thegorgerace.com/wp-content/uploads/2019/07/gorge-2019-news.jpg
687
1030
The Gorge Race
https://thegorgerace.com/wp-content/uploads/2017/03/Gorge-logo-horz-bw-300x110.png
The Gorge Race
2019-07-03 02:09:38
2019-07-03 23:09:33
News From The Gorge Race 2019: 10 Days Until