News From The Gorge Race 2019: Start List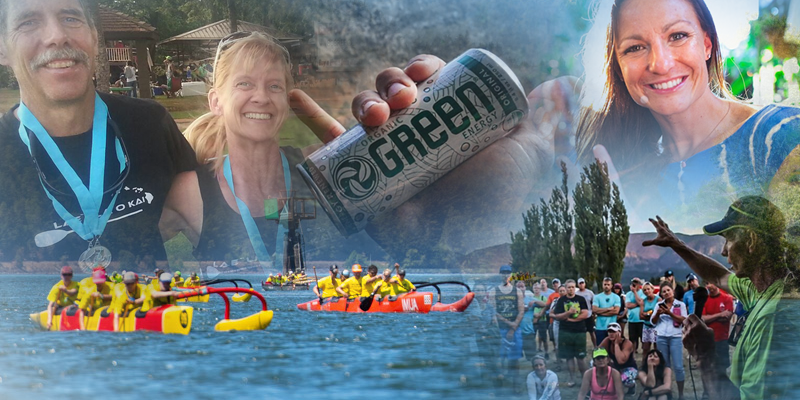 It is now less than 30 days until The Gorge Outrigger Canoe Race, July 13th, 2019. We are excited about the upcoming event and to see all the paddlers coming in from near and far.
Contents:
Welcome to the team
Mahalo to Green Energy, new sponsorship
Mix/Women Race is Capped at 60 teams (max)
Reminders
Start List
1) Welcome to the Team
To facilitate a good competition we need a good race course, permits, safety boats, registration, and timing. All include their unique set of challenges. Having a team of committed individuals to help these elements come together can sure help. We would like to say aloha to the latest additions to the team, Marian and Sam. They will be helping us out with registrations! Mahalo!
2) Green Energy Sponsors The Gorge Race Hydration
Big mahalo to Green Energy for donating drinks for The Gorge 2019! Green Energy is a Hawaii based natural and organic energy drink that is Powered by Kale! Mahalo Alan, Tannya and team!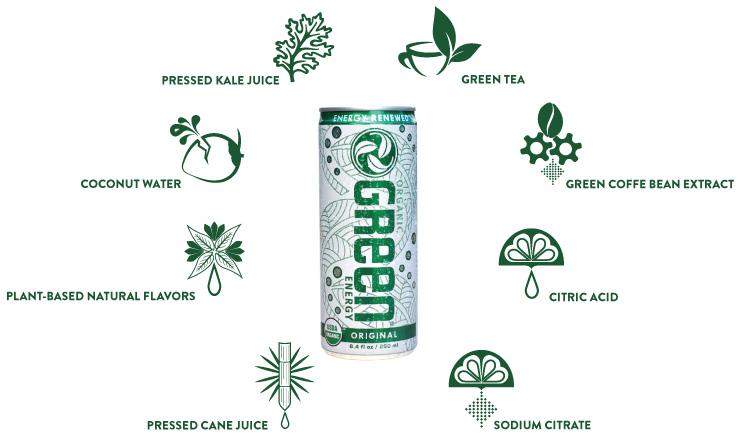 Each can has 150 mg of organic plant-based caffeine, the equivalent to a cup of coffee. It does NOT contain the junk found in most mainstream "Energy Drink" products and workout drinks, stuff like taurine and synthetic B vitamins.
3) Women's/ Mixed Race Capped at 60 Crews
Safety first, is always the plan. To keep thing manageable on the river, our Race Director JD has set the max entries to 60 for the Women/Mixed and 39 for the men, a total of 99 crews. Please register early if you plan on attending. Keep in mind we will not be allowing on-site registration, ONLY online registration via Paddle Guru.
If you need to make changes to your registration, please contact Marian at [email protected]
RACE ENTRY WILL BE CAPPED AT 60 WOMEN/MIXED BOATS AND 40 MEN'S BOATS. ENTER SOON – WOMEN/MIXED IS GETTING CLOSE TO CAPACITY!
ALL REGISTRATION WILL CLOSE AT MIDNIGHT, THURSDAY, JULY 11th.
4) Logistics and Reminders
Camping: Please ask around for where to camp, find a space that is not used. See map for where to park trailers, and one-way entrance and exit of the camping area
Packet Pickup And Check-in: 5-8pm Friday at the Fairgrounds Picnic Shelter
Mandatory Steersmen Meeting: 10am Saturday at the Fairgrounds Picnic Shelter
Results and Awards: 6pm Saturday at the Fairgrounds Picnic Shelter
Canoes to borrow/share, paddlers looking for crews, crews looking for paddlers, ride shares, etc, please use the Paddler Connect forum> https://thegorgerace.com/connect/
Bring your signed waivers to the packet pickup! https://thegorgerace.com/2019-waivers/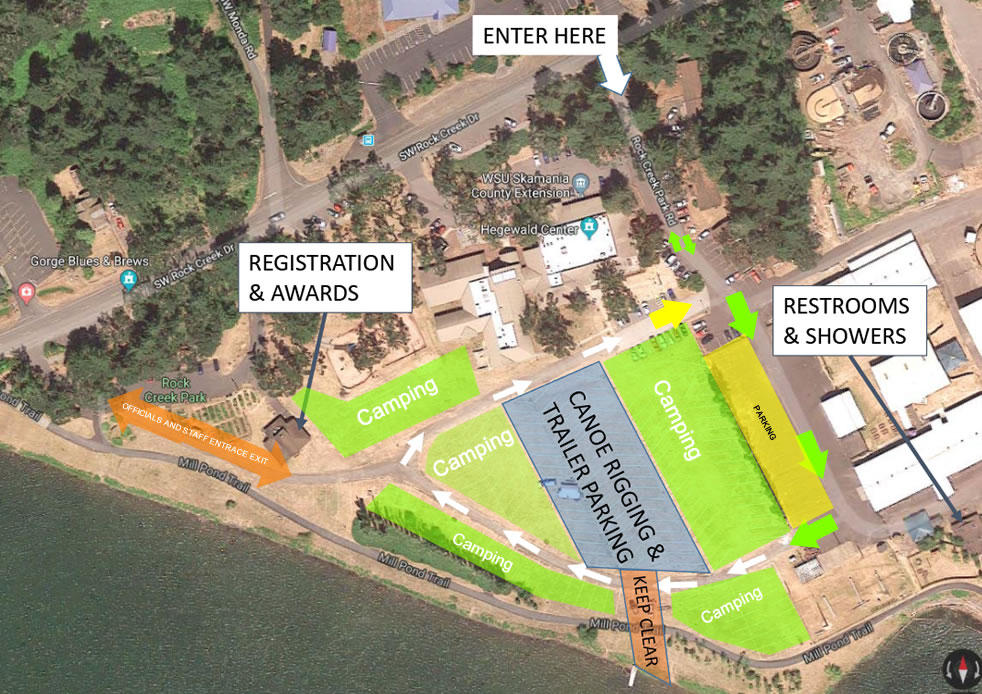 5) Start List
(As of June 13th, for latest start list see link above)
| | | | | | |
| --- | --- | --- | --- | --- | --- |
| Team Name | Event Name | Category | Age Group | Gender | Racer Num |
| Tri-City Mixed Company Two | Mixed and Women Race | Spec OC-6 | Open 18-39 | mixed | 1 |
| Team FreeLance Mixed | Mixed and Women Race | Unlimited OC-6 | Masters 40-49 | mixed | 2 |
| Imua Kailua UL Masters Mixed | Mixed and Women Race | Unlimited OC-6 | Masters 40-49 | mixed | 3 |
| Kai Ikaika Open Women | Mixed and Women Race | Spec OC-6 | Open 18-39 | female | 4 |
| Team Big Island | Mixed and Women Race | Unlimited OC-6 | Sr. Masters 50-54 | female | 5 |
| Maui Mixed Paddlers | Mixed and Women Race | Unlimited OC-6 | Open 18-39 | mixed | 6 |
| Bridge City Mixed | Mixed and Women Race | Unlimited OC-6 | Open 18-39 | mixed | 7 |
| Lotus Ohana | Mixed and Women Race | Spec OC-6 | Open 18-39 | mixed | 8 |
| SOCC Open Women | Mixed and Women Race | Spec OC-6 | Open 18-39 | female | 9 |
| SOCC Masters Women | Mixed and Women Race | Unlimited OC-6 | Masters 40-49 | female | 10 |
| Team Doug | Mixed and Women Race | Unlimited OC-6 | Sr. Masters 50-54 | mixed | 11 |
| Wasabi GRIT Together | Mixed and Women Race | Spec OC-6 | Sr. Masters 50-54 | female | 12 |
| Wasabi GRIT Intensity | Mixed and Women Race | Spec OC-6 | Masters 40-49 | female | 13 |
| Wasabi GRIT Rhythm | Mixed and Women Race | Spec OC-6 | Open 18-39 | female | 14 |
| Bend Oregon Outrigger BOO crew | Mixed and Women Race | Spec OC-6 | Open 18-39 | mixed | 15 |
| Bend Oregon Outrigger Aloha Crew | Mixed and Women Race | Spec OC-6 | Open 18-39 | mixed | 16 |
| VOS Mixed Masters | Mixed and Women Race | Spec OC-6 | Masters 40-49 | mixed | 17 |
| FCRCC WMD Mixed | Mixed and Women Race | Unlimited OC-6 | Open 18-39 | mixed | 18 |
| FCRCC WMD Women | Mixed and Women Race | Unlimited OC-6 | Open 18-39 | female | 19 |
| Dana Makuahine | Mixed and Women Race | Unlimited OC-6 | Sr. Masters 50-54 | female | 20 |
| Fairway Gorge Comp Master's Women | Mixed and Women Race | Unlimited OC-6 | Masters 40-49 | female | 21 |
| Hawaii fifty mixed senior master | Mixed and Women Race | Unlimited OC-6 | Sr. Masters 50-54 | mixed | 22 |
| Kialoa Karma | Mixed and Women Race | Unlimited OC-6 | Sr. Masters 50-54 | female | 23 |
| BBOP Team Three | Mixed and Women Race | Spec OC-6 | Open 18-39 | female | 24 |
| BBOP Team Four | Mixed and Women Race | Unlimited OC-6 | Open 18-39 | female | 25 |
| Santa Barbara OCC A | Mixed and Women Race | Unlimited OC-6 | Open 18-39 | female | 26 |
| Santa Barbara OCC B | Mixed and Women Race | Unlimited OC-6 | Open 18-39 | female | 27 |
| Tony and the Smooth Riders | Mixed and Women Race | Unlimited OC-6 | Open 18-39 | mixed | 28 |
| Hood River Gorge Grand Gurus | Mixed and Women Race | Spec OC-6 | Kapuna 60+ | mixed | 29 |
| FGPC IM Open Women | Mixed and Women Race | Spec OC-6 | Open 18-39 | female | 30 |
| Hood River Wave Riders | Mixed and Women Race | Unlimited OC-6 | Sr. Masters 50-54 | mixed | 31 |
| FGPC IM Sr Masters Mixed | Mixed and Women Race | Spec OC-6 | Sr. Masters 50-54 | mixed | 32 |
| East Meets West | Mixed and Women Race | Unlimited OC-6 | Masters 40-49 | female | 33 |
| BBOP Team Five | Mixed and Women Race | Spec OC-6 | Open 18-39 | mixed | 34 |
| Hood River Gorge Gals | Mixed and Women Race | Unlimited OC-6 | Masters 40-49 | female | 35 |
| False Creek Racing C C – E Holomua | Mixed and Women Race | Spec OC-6 | Open 18-39 | mixed | 36 |
| Kikaha Master Blasters | Men's Race | Unlimited OC-6 | Masters 40-49 | male | 81 |
| Air Tahiti | Men's Race | Unlimited OC-6 | Open 18-39 | male | 82 |
| Kai Ikaika Master Men Unlimited | Men's Race | Unlimited OC-6 | Masters 40-49 | male | 83 |
| Hood River Viento | Men's Race | Unlimited OC-6 | Sr. Masters 50-54 | male | 84 |
| BBOP Team Two | Men's Race | Unlimited OC-6 | Masters 40-49 | male | 85 |
| BBOP Team One | Men's Race | Spec OC-6 | Sr. Masters 50-54 | male | 86 |
| Wailua Outrigger Men Kamloops BC | Men's Race | Spec OC-6 | Masters 40-49 | male | 87 |
| Tri-City Mixed Company One | Men's Race | Spec OC-6 | Open 18-39 | male | 88 |
| Dana Knuckle Draggers | Men's Race | Unlimited OC-6 | Open 18-39 | male | 89 |
| Kai Ikaika Open Men | Men's Race | Spec OC-6 | Open 18-39 | male | 90 |
| Lotus greg Bo's Beautiful Old Boyz | Men's Race | Spec OC-6 | Sr. Masters 50-54 | male | 91 |
| Pacific Reach Men | Men's Race | Unlimited OC-6 | Open 18-39 | male | 92 |
| SOCC Open Men's Two | Men's Race | Spec OC-6 | Open 18-39 | male | 93 |
| SOCC Open Men's One | Men's Race | Unlimited OC-6 | Open 18-39 | male | 94 |
| IMUA OCC Newport Beach Cali | Men's Race | Unlimited OC-6 | Masters 40-49 | male | 95 |
| Bisons Team | Men's Race | Spec OC-6 | Kapuna 60+ | male | 96 |
| FCRCC WMD Men | Men's Race | Unlimited OC-6 | Open 18-39 | male | 97 |
| Kelowna Prune Pickers | Men's Race | Unlimited OC-6 | Kapuna 60+ | male | 98 |
| Fairway Gorge Comp Comp Open Men | Men's Race | Unlimited OC-6 | Open 18-39 | male | 99 |
Thanks for reading! If you have questions, please email [email protected]
~Naim Ferguson
On Behalf of The Gorge Race ~ A Waterwalker Event
Mahalo Sponsors:
Maui Jim ~ Outrigger Zone ~ BioAstin ~ Pacific Northwest Outrigger ~ Puakea Designs ~ KIALOA
https://thegorgerace.com/wp-content/uploads/2019/06/gorge-news-2019.png
400
800
The Gorge Race
https://thegorgerace.com/wp-content/uploads/2017/03/Gorge-logo-horz-bw-300x110.png
The Gorge Race
2019-06-15 02:10:00
2019-07-09 02:41:10
News From The Gorge Race 2019: Start List